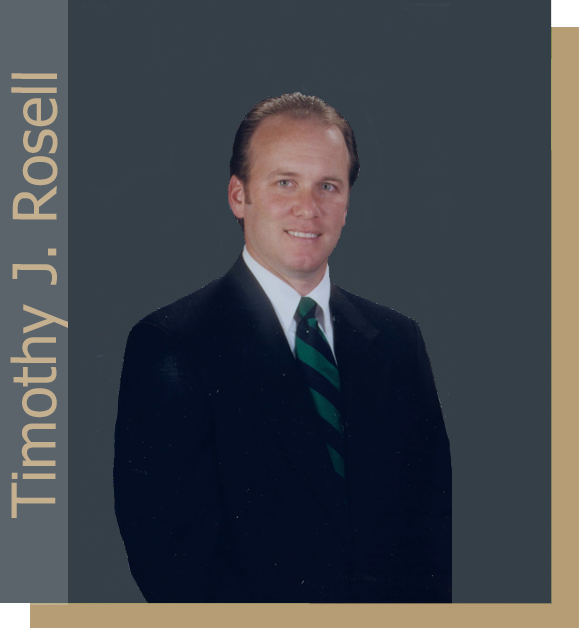 Timothy J. Rosell
Born in Wayland, NY in 1967, Tim has resided in Hornell, NY his entire life outside of attending law School at Thomas M. Cooley in Lansing, Michigan and residing on campus at Alfred University from 1987 to 1990. He worked as an assistant to Mr. Pulos for three years after graduating from Alfred prior to attending law school. He worked on the Law Review at Thomas Cooley and was awarded certificates of merit for his Advocacy and Computer Assisted Legal Research.
He appears in family court and divorce court matters held in the County Courts of Allegany (Belmont), Livingston (Geneseo) and Steuben County (Bath). He also practices regularly in Supreme Court resolving divorce cases that can't settle without court intervention. He is serving as Assistant District Attorney for local courts having previously served in 2006 and 2009.
A graduate of Hornell High School in 1985 he is an active member of the community and the past president of the Hornell Kiwanis Club. He previously served as a basketball and baseball coach for youth leagues. Tim resides in the City of Hornell with his wife who is an elementary teacher and their two children.
Areas of Practice
Divorce
Family Court
Personal Injury
Wills
Real Estate

Bar Admissions

Education
Thomas M. Cooley Law School, Lansing, Michigan

Honors: Certificates of Merit for Advocacy and Computer Assisted Legal Research

Law Review: Thomas Cooley Law Review

Alfred University

Professional Associations and Memberships
Hornell Kiwanis Club, President
Youth League Baseball and Basketball, Coach
Corning Community College, Trustee

Past Employment Positions
Assistant District Attorney